Home Photo Studio is powerful and easy-to-use photo editing software offering an extensive kit of image manipulation tools. Thanks to a convenient interface and a detailed help system, the software is simple to learn but provides enough options to keep any photo enthusiast creatively occupied. Besides a complete set of tools needed for basic photo editing and enhancement, you will get plentiful opportunities for creative photo design.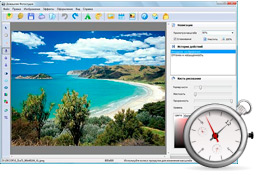 Fast Photo Editing
The primary goal of the software is to retouch and enhance digital photos. There are all necessary tools for adjusting levels, curves, color balance, contrast, saturation, and more, as well as a set of brushes. Low-quality shots can be improved in no time. Retouch photos, enhance colors, remove red eyes, fix blurred images - all of these can be done with one click of the mouse!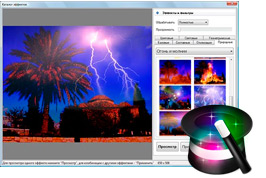 Unique Filters and Effects
Over a hundred image filters and special effects will transform your photos in an incredible way. The effects collection offers a selection of illumination, nature, optical, geometric, plastic effects, and a lot more. There's even 3D composition – a feature not commonly found in non-professional photo editing software. Special effects can turn an ordinary photo into a unique work of art.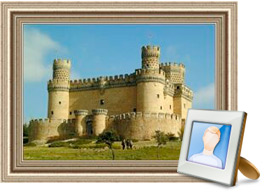 Creative Photo Decoration
Not only can you improve your photos with this app - there's also a variety of features for creative design! This makes Home Photo Studio really unique compared to other photo editing software. A large collection of picture frames in various styles, masks in different shapes for creating original edge effects, and professionally designed photo decoration templates - there's everything you need for creating beautiful framed photos or personalized greeting cards.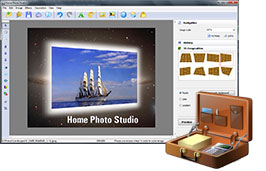 All-in-one Photo Editor!
Home Photo Studio provides all of the features and extras needed to modify and enhance digital images. The app provides support for 20 input and output graphic formats. The convenient image viewer gives you instant access to all photos stored on your computer. Don't be afraid to make a mistake while editing the pictures - the multi-undo feature lets you easily fix any error.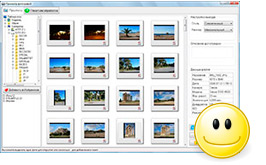 Convenient and Easy to Master
Are you tired of complicated and time-consuming photo editing programs? Then, Home Photo Studio is the app you had been waiting for. You won't have to spend infinite hours on mastering the software interface and searching for tutorials on the Web. The program is so easy that even kids learn to use it in no time. You'll also appreciate the detailed help system built into the program where you can find answers to any questions while working with the software.