Photo Editing Software
Home Photo Studio gives you the tools to easily enhance and edit digital images.

The program includes photo editing options, such as auto enhancement, retouching, red eye removal, etc. Also, it includes more than 100 special effects that can be applied to the images for a different look, including the unique plastic and 3D composition effects.
Order full version!
How to Take Landscape Photographs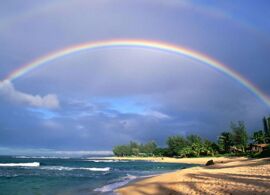 Landscape Photography is one of the most popular topics in photography. It may look simple and easy to shoot landscape photography, yet there are several nuances and techniques one must know in order to express that moment in time which you are trying to capture and show in your picture. To learn how to take landscape photographs, you must not only know the basics of professional photography, but be able to feel the nature around you and respond to it's slightest changes. Let's try to define the basic conditions for creating quality landscape Photographs.
1. Weather. Generally speaking, all weather is good for shooting landscapes. Weather brings life to the picture, a diverse and unique manifestation of nature creates amazing landscape images. However, keep in mind some of the nuances that create some of the most successful time periods in taking landscape photographs. Scenery is better shot in the morning or evening. Many photographers say this is the "golden time" for taking landscape photographs. When the sun is low on the horizon it creates long shadows with volume and texture. Particularly beautiful pictures are of sunsets, but it's not so easy to shoot them. In order to properly photograph landscapes at sunset, one has to take into account the contrast between objects in the foreground and sky. To achieve maximum clarity of the foreground objects, use faster shutter speed, while risking overexpose of the sky in the background. Incorporating all these nuances allows you to shoot landscapes more professionally, but mastering the art of landscape photography takes practice and time.
2. Composition. The definition of composition is the act of combining parts or elements to form a whole. To learn how to take landscape photographs, one must take into account the basic rules of composition in photography. Composition landscape photos should be multifaceted, should not contain vertical or horizontal lines that divide the frame in half. The objects in your picture should be focused on the top or bottom of your landscape by a third. The effect you want to achieve is harmony and balance, thus the different lighting is gradually displayed in the picture.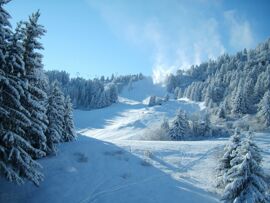 3. Rules of photography. If you decide to shoot landscapes, use a tripod, it's necessary especially when using long shutter speed (good for night scenes), as well as to avoid your hand shaking when photographing. It's also good to acquire Photo Editing Software Program. When shooting landscape photographs, use low value ISO, it provides greater image detail and lessons sharp shadows. To achieve various effects use different aperture values. Thus, low values, will focus attention on the front site and leave the background blurred. For all of the objects in the photograph to be clear and sharp, use high aperture. Exposure to landscape photography also depends on the goals that you set. For example, if you want a blurred sky for landscape photos, you must select the maximum possible duration of aperture exposure. See How to Blur Background of an Image for more info.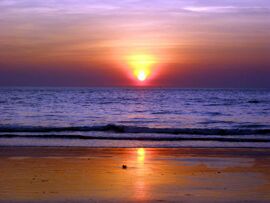 4. Editing landscape photographs. The editing process is essential in completing your landscape photographs. At the time of taking your pictures it is very difficult to take into account all of the factors that affect image quality. For editing your landscape photos we recommend you use Home Photo Studio photo editor from AMS Software. It is a universal program for editing, correcting and enhancing landscape photographs. Home Photo Studio photography software provides a complete set of tools for landscape photos. The software provide automatic as well as manual options in correcting images. The program offers a large selection of options which you can use to improve your landscape photographs such as sharpen image, saturation, red eye removal, adjust brightness and contrast, correct the lighting, set the optimum white balance, change the saturation level of landscape photos, and much more.
Learning how to take landscape photographs is acquired only with experience, and not every professional photographer can boast of high quality landscape photos. The key to landscape photography is to tune in to the elusive moods of nature, seize the moment, and reflect natures natural splendor in your photo.
Download your Home Photo Studio now!
The program is compatible with Windows 11, 10, 8, 7